Aquatic Centre Oostende
Oostende (BE), 2021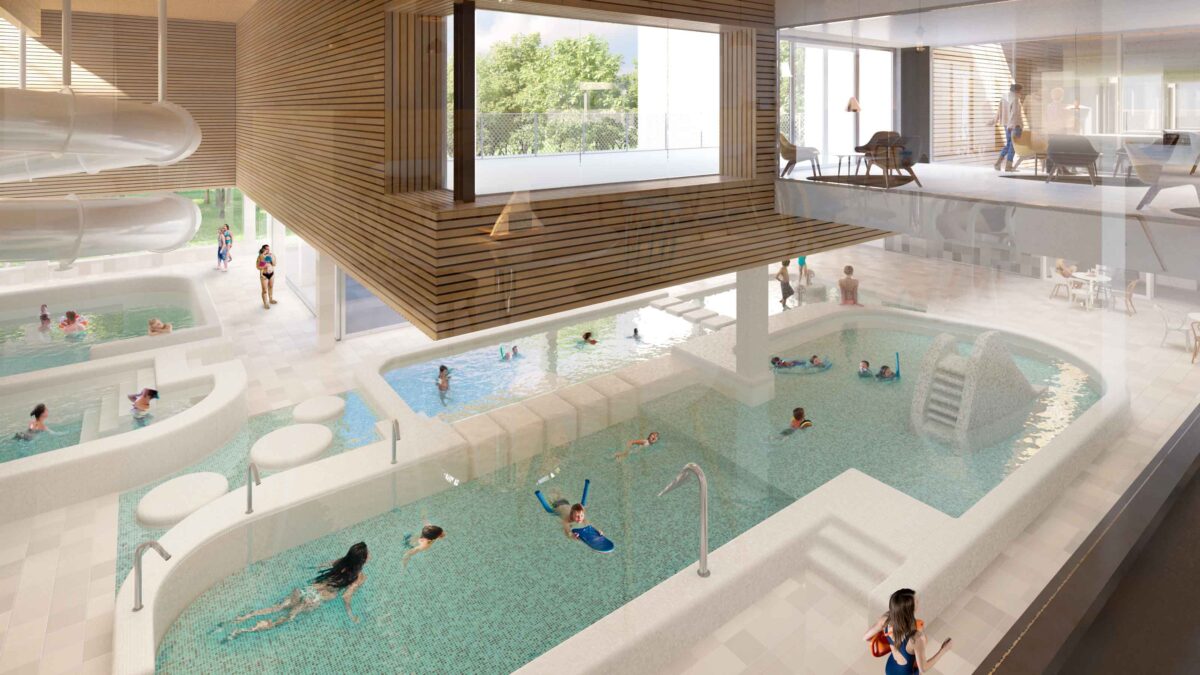 Information
The Aquatic Centre Oostende is the new sports and recreational attraction for Oostende. By combining a large public swimming pool and 22 apartments in one building, the building blends perfectly into the existing urban life and fabric of the city. At the same time, the building fits in with the green surroundings of the neighbouring golf course and the coastal strip. The apartments, housed in two separate volumes on top of the aquatic centre, contribute to the recognizability of the complex.
The building has various faces and presents itself differently on all sides.  On the urban side, the Northlaan, the building is open and inviting. Via the lively forecourt, an integral part of the design, visitors are guided to the entrances, marked by canopies, on the ground and first floor. At Nieuwpoortsesteenweg, the building connects seamlessly to the existing small-scale housing. Here you can also find the two entrances to the apartments. Underneath the building is a parking garage for both residents and visitors.
The cafetaria has a central position. It extends over almost the entire length of the first floor and interconnects all spaces. From here, one has a beautiful view over the swimming pools, the patios and the green surroundings. Different atmospheres and seating areas create an intimate space. The inviting sunny terrace in the front offers a place for a drink, also for passers-by during a walk to the beach.
The aquatic centre consists of a 50-meter pool, an instruction pool with a depth of 4.2 meters (also for divers) and an extensive recreational area with entertainment for all ages, including two slides, a creek and a climbing wall. Additionally, there is a wellness area with an outdoor terrace and several thermal baths overlooking the golf course.
Statistics
| | |
| --- | --- |
| Name: | Aquatic Centre Oostende |
| Location: | Nieuwpoortsesteenweg 1 |
| Program: | Swimming area with an Olympic size pool, instruction pool with a depth of 4,2 meters and a recreational area. Restaurant, multipurpose rooms, underground parking for 69 cars and 22 apartments |
| Surface area: | 16.000 m2 BVO |
| Assignment: | Competition design, concept design, schematic design, design development, construction documents, aesthetic supervision, strategic vision |
| Period: | 2016-2021 |
| Status: | In Progress |
| Client: | Sportsbuilders NV, Stad Oostende and FARYS|TMVW |
Credits
| | |
| --- | --- |
| VenhoevenCS: | Manfred Wansink, Ton Venhoeven, Mateja Pipan, Reijer Pielkenrood, Nerea Saenz Compañon, Natasja Cvetkovic, Ed van Waveren, Peter Rugebregt, Alvaro O'Farrell, Florina Bleanca (Intern) |
| Partner architect: | B2Ai architects |
| Main contractor: | Sportsbuilders (NV) |
| Structural engineer: | NEY & Partners |
| MEP: | Boydens Engineering |
| Building physics: | Boydens Engineering |
| Water treatment: | KWB |
| Images: | Vingtsix (renders) | Polygon (render interior 4) |