Wenzhou Ouhai
Wenzhou (CN), 2020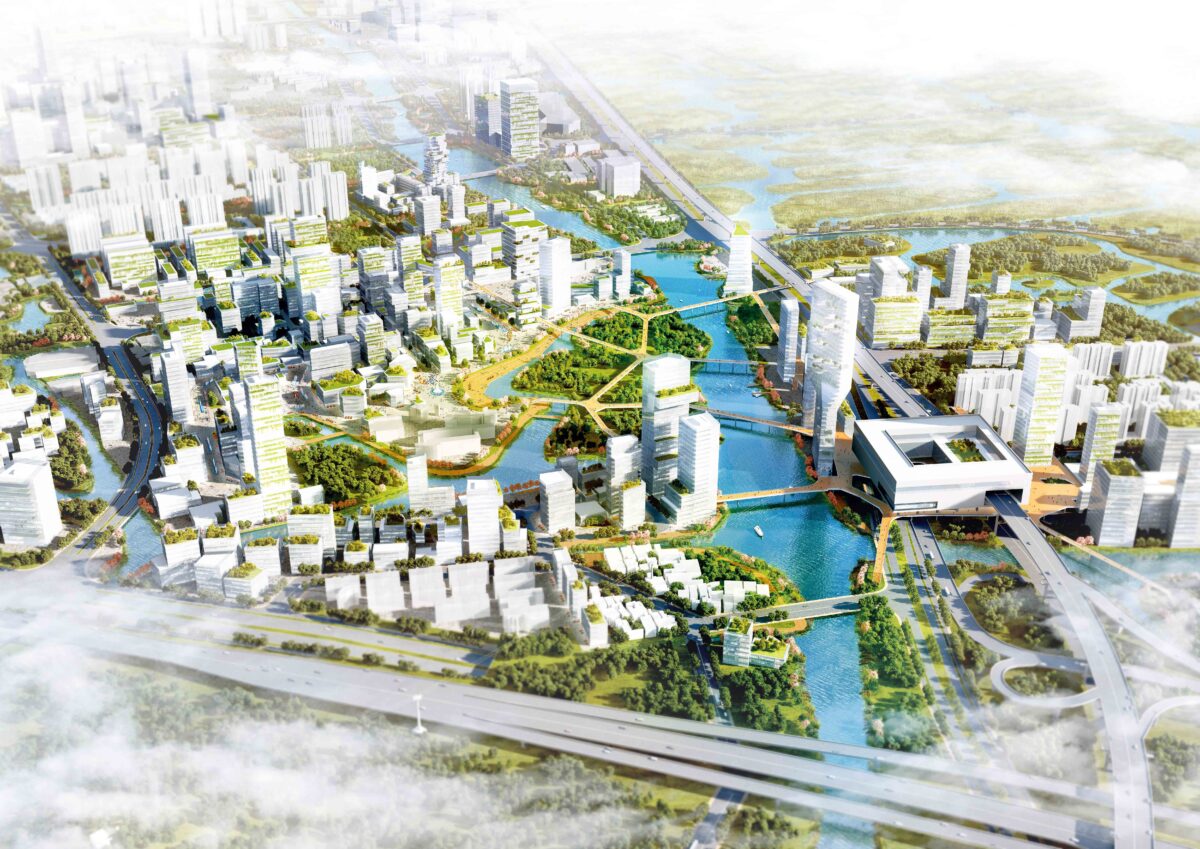 Information
This proposal aims to turn the Wenzhou Ouhai District into a healthy, attractive and nature inclusive city. The competition design is the result of a cooperation between Team+ architects in Shanghai and VenhoevenCS architecture+urbanism and offers everything a contemporary city needs: a vibrant and creative city life, a healthy living environment for people, all modern and green city qualities, but also economic safety and resilience. This ambition was translated in a four-layered master plan that holds resilient ecosystems, a green mobility framework, vibrant mixed-use neighbourhoods, and is based on the idea of inclusive economic growth.
Nature inclusive city
Green and blue networks of the nature inclusive city connect regenerated forests, nature parks, waterways, ecological riverbanks, pocket parks and neighbourhood parks, roof gardens, small-scale local farmland, and community gardens all together. The reconnected waterways and wetlands prevent flooding, improve city drainage, and improve water quality. Within the regenerated neighbourhoods, waterways are provided with ecological riverbanks to improve water management, water quality, and biodiversity.
With regard to the green mobility framework, a clear division is proposed between larger mobility networks where car-, bus- and rail connections dominate and neighbourhoods where walking, cycling, and playing have right of way. To reduce dependency on motorized traffic, mobility hubs at walking distance provide a range of mobility services. On a larger scale, the new S3 light-rail and M1 metro will be integrated into the mobility system to create one large multimodal mobility network.
Transit Oriented Development
Regarding area development, all station areas along the new metro and light rail lines are suitable for a transit oriented development approach. However, the node where both meet the highway system with the tollgate has the highest potential. This area offers opportunities to develop a well-connected, high density mixed-use area with economic focus on the service industry. Other station areas offer opportunities for urban regeneration and densification with the application of design principles for vibrant mixed-use neighbourhoods.
After regeneration, all neighbourhoods offer mobility hubs, public facilities, job opportunities, and a large range of residential options within walking distance. All buildings will be new or renovated and improved to higher quality. If that is impracticable, buildings can be replaced by new buildings or pocket parks. On top of buildings, extra volumes and buildings will be added and flat roofs are turned into green roofs.
Statistics
| | |
| --- | --- |
| Name: | Wenzhou Ouhai |
| Location: | Ouhai District, Wenzhou (CN) |
| Program: | Strategic planning strategy, Industry guidance planning, Functional layout planning, Construction intensity analysis, Spatial morphology planning, Urban green planning, Road traffic planning, Vertical city concept and Implementation strategy recommendations |
| Surface area: | Urban vision and Planning 28km2, detailed urban planning 5km2 |
| Assignment: | Competition design |
| Period: | 2019-2020 |
| Status: | Completed |
Credits
| | |
| --- | --- |
| VenhoevenCS: | Ton Venhoeven, Jos-Willem van Oorschot, Li Gubai, Grzegorz Balinski, Chi Shuxin, Mesut Ulkü, Timothée Pignoux |
| Partner architect: | Team+ Shanghai |