Kotka Health Park
Kotka (FI), 2011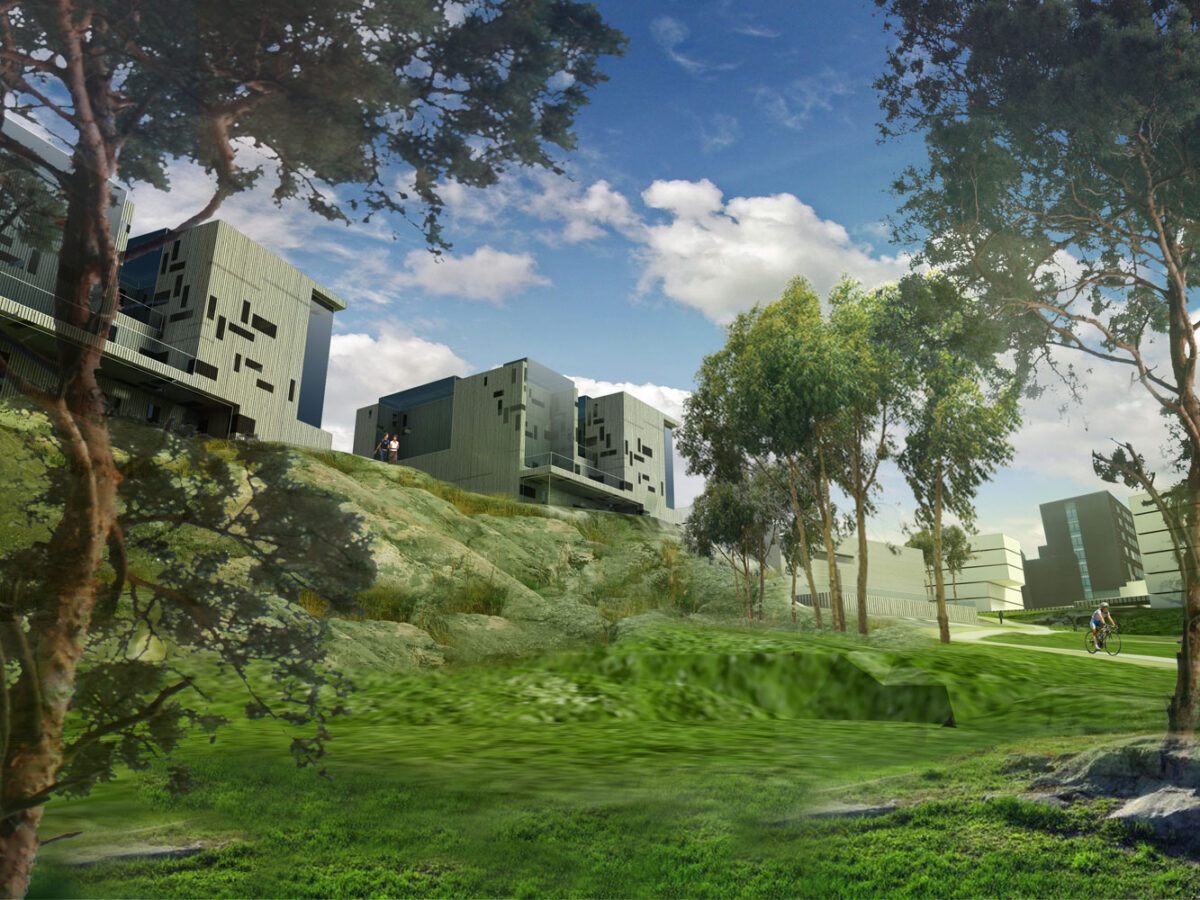 Information
Ageing populations and shrinking regions force many European countries to fundamentally rethink and reorganize their healthcare systems. At the same time, economic and environmental challenges ask for a strategic approach of these assignments. In the new Master plan for Kotka Wellness Park the services of the regional hospital are combined with Primary Care, Welfare Care, general facilitiesand housing, in a client and ecofriendly, Park like setting. The resulting Wellness Park provides the required synergy effects and efficiency benefits in order to be able to continue providing affordable care.
The combination of scenic location, proximity to hospitals and healthcare facilities,easy accessibility and park-like setting creates ideal conditions for developing wellness and other healthcare related facilities. Think of swimming and therapy pools, gym, sauna, restaurant and hotel, but alsoparking and mobility facilities, shops and maintenance. Health organizations can focus on their core business and use or share facilities run by other companies. The combination of different organizations and users, businesses and activities guarantees efficient use of the facilities. On the site also dwellings will be realized. These are very interesting for elderly and other dependents, because of the presence of the many amenities and 24-hour care on call in a nice neighborhood.
The first phase of the Kotka Wellness Park Structure Plan consists of the realization of a core hospital and a new infrastructure for ambulances and staff, a new entrance area and the renovation and transformation of the existing building into outpatient departments, primary care and wards. Later phases include restructuring of psychiatric wards, parking and shops. In the future, when wards become redundant as a result of the increase of day treatment, a hotel can be developed in this part of the complex.
Download PDF
Statistics
Kotka Health Park
Kotkantie 41, Kotka (FI)
Core Hospital, policlinic, primary care health centre, welfare services, psychiatric clinic, residences, cultural centre, commercial, station
124,500 m2 gfa, 12,3 ha
Masterplan Wellness Park and hospital
2010-2011
Discontinued
City of Kotka, Kotka health district
Credits
Ton Venhoeven, Bas Römgens, Jan Lebbink
VenhoevenCS
Background Information
Core Hospital
'Core hospital' is the winning entry of the international Future Hospital competition. The compact Core Hospital is based on the idea that a compact organization and building structure allow the hospital to be integrated in the city and to run more efficiently. The core hospital therefore only accommodates the core functions of the hospital; all other functions are decentralized.
In the Kotka Wellness park we implemented the core hospital concept to the existing hospital. All crucial functions and facilities are concentrated in one compact building. This core hospital hosts First aid, Shared Emergency, Operation Theaters, Intensive care (ICU), Cardiac care (CCU), Stroke, Step up/down, Delivery and Dialysis.
The core hospital will be positioned south of the existing hospital. This position offers maximum connectivity with the wards, outpatient department and the pediatric clinic. Walking distances are short. This results in lower risks and lower costs.
With a minimal investment the existing hospital can be transformed into an efficient, state of the art hospital.

Easy access
The aim is to create easy access for patients to the needed healthcare. Therefore the zoning of the wellness park is based on easy accessibility. A shared emergency guarantees 24/7 treatment in primary and specialist care and psychiatric and social care.
A patient oriented clinical pathway is introduced. Outpatients will enter in one entrance where they can find primary, specialist health care and social care in one space, the new multidisciplinary outpatient department. Patients no longer have to walk from one doctor to another. Clients meet all medical personal needed in a standardized meeting and examination room. Behind the examination rooms knowledge centers offer all kind of working places for the medical staff, varying from places to process information, places to search or exchange information with other doctors and places to have discussions. The knowledge centers aim at higher transparency and knowledge exchange and also result in lower building costs.