Sterrewijzer nursing home
Olen (BE), 2013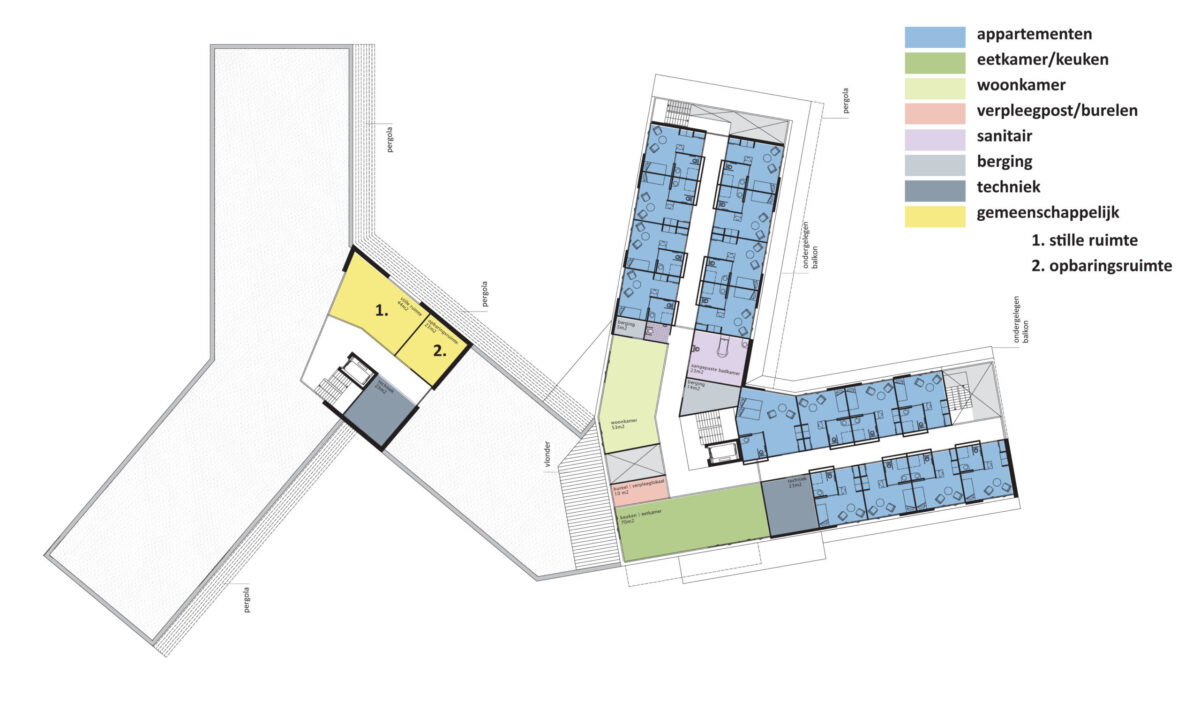 Information
Sterrewijzer nursing home is a small complex in the village of Olen (BE), surrounded by a green environment. Sterrewijzer is a protected environment for individuals, but at the same time it's a challenging world with different learning stimuli. There is tiered? security, which allows the residents in their home to decide their own interior atmosphere, whilst outside the room there is significant opportunity to meet and undertake activities. There are 69 residential units consisting of small-scale living , protected living and short stay facilities. There is also a day care centre. Due to the flexible building structure and clustered living rooms and kitchen diners (linkable), the staff are very efficient to deploy.
Outdoor space as an extension of perception
The attractive, safe and accessible outdoor area has a lot of diversity in furnishing, use, and character; alternately soothing, stimulating and challenging. The courts and gardens are simply locked during the evening if desired. The gardens are also a place for socializing. The rooms on the first floor have large windows, so that the residents can see what is happening in the garden from their seats.
The common living rooms have access to the garden through the porch. Each room has its own atmosphere by direct relationship with the various themed gardens: the Japanese garden, the pine garden and the wild flower garden. Also in the interior, several places with unique atmospheres have been created. Natural materials, a fireplace in the restaurant and the use of colours enhance the atmosphere, sense of space and act as an aid for the visually impaired residents.
The view of the diverse outdoor space also provides variety and quality to the individual homes. There are different types of houses, all of which are either oriented towards the garden, sun or appealing views, giving all residents a pleasant experience connected with the environment.
Integration with the environment
The green gardens surrounding the nursing home invite you to take a stroll. A public restaurant with an integrated terrace for residents, visitors, passers-by and people from the neighbourhood provides integration with the environment, as well as the day care centre with vegetable garden. There is also room for additional public programming at the woodland plot ( e.g. physiotherapy, fitness, swimming, etc).
Statistics
| | |
| --- | --- |
| Name: | Sterrewijzer nursing home |
| Location: | Olen (BE) |
| Program: | Nursing home (69 residential units: small-scale living, sheltered housing, short stay) and day care centre |
| Surface area: | 4,785 m2 GFA |
| Assignment: | preliminary design |
| Period: | 2013 |
| Status: | Completed |
| Client: | Huize de Sterrewijzer |
Credits
| | |
| --- | --- |
| VenhoevenCS: | Ton Venhoeven, Bas Römgens, Manfred Wansink |
| Images: | VenhoevenCS |